For my first time helping to teach an introductory-level Shakespeare course, I found a good icebreaker activity from Stefanie Jochman on the Teaching Shakespeare Folger Education blog. It's called Shakespeare in a Mug, which is her modification of Shakespeare in a Can from other teachers. The activity is fairly simple but really fun. You have students pick lines of a play or plays from mugs and then a location from another mug, and then have them improvise a scene after a brief preparation time.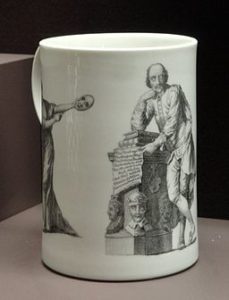 I modified hers a bit because I wanted students to be able to work in small groups rather than in pairs, since I thought that would be less intimidating. I also added a bit of participation for the audience by writing the possible locations on the whiteboard and having them guess the location after each group finished its scene. Since I wanted to use lines from the first play we were studying, Richard III, I went through the online version and picked out lines that I thought would be easier to mix and match for an improv scene and that didn't have too much difficult language. I know the added pressure of reading out loud when it's unfamiliar or hard to pronounce.
So here's my version:
Shakespeare in a Mug
Make sheets with lines from a play or plays and locations and cut them into individual strips (or modify my sheet of Richard III lines and modern-day locations).
Put the lines in one, two, or more mugs (depending on class size) and the locations in a separate mug.
Assign or have the students get themselves into small groups and choose one or two lines per person, then one location for the whole group.
Give them time to prepare a scene set in their location using at least some of the lines. (I told them they could add non-Shakespearean lines if they needed to — some groups did and others didn't.)
Write up all of the potential locations on the boards if you want them to guess.
Let them improvise their scene in front of the class and have the audience guess which location they are at.
Despite some eye-rolling and hesitance at the beginning, most of them seemed to get into the spirit as they started talking with their groups and having to negotiate how they were going to put together a scene. I was quite impressed with what they managed to come up with on such short notice, and we laughed a lot which was a pleasant experience for the first, sometimes awkward session where few people know each other and they aren't sure what to expect. It also allowed me the chance to let them know that Shakespeare really has to be heard and performed for full impact, and that we would be doing more speaking of lines throughout the term.
One of the most memorable lines was an added one said in a 'Shakespearean' way. The group was pretending to be at a shoe store, and one person came up to the salesperson with a shoe in hand and asked, 'Dost thou have these in a size 9?' The class couldn't help cracking up! I would definitely recommend this activity as a good ice-breaker or something to enliven a class or tutorial session.