National Digital Forum (NDF) Conference 2018
Te Papa Tongarewa Museum of New Zealand (Wellington, New Zealand)
November 20-21, 2018
The NDF Conference this year was another good, inspirational, and thought-provoking one, with a great line-up of keynote speakers and other presenters. The keynotes offered a range of insights as well as challenges to how to make GLAM more diverse and be more thoughtful about how and why it collects material. The opportunity to check out the Mahuki Labs at Te Papa was also welcomed – everyone was excited to share their projects and see what others thought. The hashtag was #NDFNZ and many of the presentations are available on NDF's YouTube channel – well worth watching!
Day 1 – November 20, 2018
Official Welcome and Opening Address – Prof Rawinia Higgins
Higgins discussed how the normalization of the Māori language cannot be left just to the schools, universities, etc. The GLAM sector can take a role and find ways of getting people to use digital repositories and tools. We shouldn't just replicate what we already have in other mediums. There should be gateways where people can connect to their heritage and culture. Although Māori were largely an oral culture, they also have been early adopters, and history shows how they embraced literacy and had a variety of Māori newspapers. Colonization takes a toll – it just takes a generation to lose a language. She challenged the sector to not just protect knowledge but connect ancestors to our communities so it becomes their vernacular today. The Crown's Māori Language Strategy has its efforts being led by the Māori Language Commission. Digital tools are still just tools – it is people and connectivity at forums like this that are important for discussing issues.
Keynote: Michael Edson
Edson began with a story about a pottery class where the teacher said half the room would get a grade based on one pot, and half the room would get a grade based on weight (e.g. making 200 pounds will get you an A, 50 pounds a C, etc.); the ones who made the most pots actually were more creative because they weren't stuck on perfection and just got on with it. He provided several observations for thought: that cultural organizations must seek new ways to share (leverage, scale) their vitality and power, much of that vitality/power will come from outside our institutions, and that the lives of individuals and community are far more dynamic, creative, and amazing than we give them credit for. He said we must 'cut the knot' and achieve more direct paths to action, including finding ways to think outside of the institutions (cut the Gordion knot).
Then he had us play a Rock Paper Scissors game with each other, making the whole auditorium erupt into sound and liveliness. He showed us the super-fast Rock Paper Scissors robot that wins every time because it can see the movements of a human's hand. Edson said that groups that face each other far outperform in creative, cognitive tasks, innovation, problem-solving than groups that don't. This includes groups like surgeons. He discussed 'leaning in' activities and play, and how you can get 10x more human interaction at a farmer's market than a grocery store [something that is likely to continue with increasingly automated check-outs].
He asked us to reflect on the United Nation's Sustainable Development Goals and the one we like the most for a minute. Then he moved on to discussing UN Live: The Museum for the United Nations. It's about connecting – they intentionally made the beginning of the mission statement a verb – it's also about catalyzing global effort toward its goals. He said it helps clarify what you're doing when you're planning. They call themselves a museum on three platforms: Building, Network, Online, with a physical building in Copenhagen, a network of other institutions, and a digital presence to bring it all together.
People tend to be interested and involved when it's in their local community (e.g. best pizza pies on the block gains more interest than best pizza in the city). People tend to care about climate change when it affects their garden, and research backs this up. Many of us think that if people have an emotional reaction to a problem, they are more likely to take action. But there is not a lot of evidence of this. Also, we think that if people know or learn about something, they will change the way they act in the world. But there are not a lot of stories about this happening. In fact, actually the opposite can be true, especially if it contrasts with their ideas, or if they think they are doing something about it by just knowing. Doing something (maker space) can be a skill in itself. This is why they've chosen to design with head, hands, and heart to try to tie all of the above in.
Rather than looking for a target demographic, they are looking for a target 'psychographic' (people who are open to change rather than 'teens who read such and such'). They know online videos with playful element are successful and plan to use vloggers to create videos. They don't have time or need to create a new audience for UN Live but instead will borrow (like Wikipedia borrowed Slash Dot's). There are already festival of/for change around the world; they can start with them and then build their own.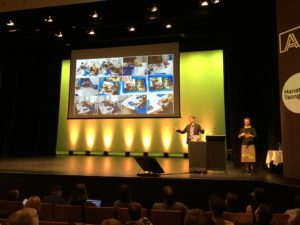 He then discussed one of the ways they went about designing a museum space by getting kids involved. They used Lego and asked kids in Denmark to design a space to improve the world without telling them it was a museum until afterward. Then when he told them it was a UN Museum, their faces fell, indicating that the word museum held a negative impression for kids. He asked them what they thought about museums and they said 'Eck…' And he asked them what they thought about libraries and all said 'shh' and motioned with their fingers. But then he asked them where they went to hang out, and it ended up being the public library. And the same with the children's museum. Despite this issue with terms, he said some framing is necessary. When he tried the design experiment without using that term they were lost.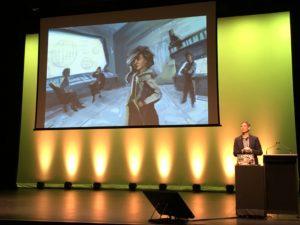 He explained that using a game scenario is another way to solve problems. Science fiction can be a good way to level the playing field in that people don't feel like they have to be an expert to solve problems on a hypothetical 'Earth 7' because it doesn't exist, unlike something on real Earth. He said he has been in some awful meetings with museum staff where they say they want to change the world but 'Stan' here really just wants me to fill in this form.
In the Q&A, someone asked why he had us do the reflective exercise on the UN's SDGs; his answer was that he wanted to take a risk and have people think about it and get in contact with him. Another question was about whether the push to get people to take action abdicates responsibility from organizations that should be doing stuff, like Occupy doing work of FEMA. His reply involved saying that it seems to be a 'hack' on the system and a way to give more people a seat at the table where decisions are being made. He doesn't think this is a way to necessarily abdicate.
Thomasin Sleigh – DigitalNZ reflects on ten years
Sleigh noted that DigitalNZ points to over 206 institutions and lots of content. She admitted that she at first questioned whether the service was that useful, but she now believes that it is. She said that the big players (GAFA: Google, Apple, Facebook, and Amazon) actually control a lot of the information now, and people may think of these as the Internet and get all their news from them. But there is a lack of control here. Mark Zuckerberg can turn off a website's traffic with the switch of an algorithm (ex. Recent Spinoff example). There is the post-truth environment and election tampering. She mentioned Jamie Bartlett's The People Vs Tech: How the Internet is Killing Democracy (and How We Save It) (2018) and Safiya Umoja Noble's Algorithms of Oppression: How Search Engines Reinforce Racism (2018). People sometimes ask her, why wouldn't I just Google to look for information? But Google only has a veneer of neutrality; it is in its best interest to make us forget it's a business. When you Google things, there is often not a lot of diversity, including a lack of women – 50% of population.
Katie Breckon, Johnny Divilli, Pete O'Connor – Activating collections in remote Western Australia
They discussed having to travel to very remote places only accessible by 4-wheel drive or helicopter, and having to hike for an hour in the long grass where snakes live! Dolord Mindi (the cave) is home to the Mowanjum Community Collection and Media Space. Arts and cultural workers receive on-the-job training and are supported to attend workshops and mentor fellowships. This helps them build local capacity as they care for the collections. They also are helped to develop their digital media skills and do drone training so they can record their cultural sites. Kids are the most frequent users of databases, and they are looking forward to getting more computers in.
They also discussed some of the arts and cultural projects, like the Junba Project (Junba is a form of storytelling through song and dance). O'Connor said he didn't have a chance to learn the cultural practices and dances when he was young, so he wants to make sure the young men and women have the opportunity to. There is a poster of the different meanings of paint on the body, and they want to have an app where users can touch a part and then read what the meaning is in a more interactive way. Kids use iPads to film themselves dancing and then reflect on their efforts and improve. For example, they might be trying to look like an emu and see that they need to work on their posture more. At the close of the presentation, they showed us the 3-D mapping of a cave that they are working on.
Karyn Brice – NZSL at Te Papa
Brice discussed the journey of having an interpreter at an exhibit at Te Papa, filming them, and having that for New Zealand Sign Language Week. She mentioned ConnexU, which works with GLAM institutions in Australia and now some in New Zealand to provide NZSL and connect with deaf communities. They film a video of an interpreter for you. When the Te Papa team asked for feedback on the NZSL interpretation, they received it. Some preferred presenters who were deaf because they have learned NZSL as a first language and have a different perspective. This also raises the visibility of people who are deaf in the museum. People also indicated they would like to have New Zealand presenters and the option to turn the captions on/off.
A lot of the Gallipoli exhibit relied on audio stories, so one person was disappointed that he wasn't able to have the full experience. Another woman came with her children and a host started talking to her but didn't realize she couldn't hear. She felt like she was missing out on important information that she couldn't convey to her children. When people were asked to do a thought activity about designing a magic mobile device (if you could design any phone for an exhibit, what would it look like?), they received comments about something that would float because people's arms get tired, would be able to locate their children, would provide easy directions to toilets and parents' rooms, and would display what the rules of the museum were. In taking feedback into consideration, how Te Papa hosts receive NZSL training.
Adam Moriarty – Do we still need a Museum collections online?
Moriarty said the best decision they at the Auckland War Memorial Museum made was to partner with DigitalNZ. They get more hits from there in one month than they get in 3-4 months on their site. He once asked a scientist where they got their data and it wasn't from museum websites. It was from portals like Atlas of Living Australia. People may not know Auckland exists, but they probably know that New Zealand exists and will be more likely to use search portals to find information. The mission isn't to get people to visit or come back or to click through but to connect with museum content. The museum had a Wikimedian in Residence last year and it started to change the culture. They had some volunteers upload 100,000 images for them and classify and catalogue them. These are now used on 2,000 Wikipedia pages in 83 languages.
Kirsty Farquharson and Elizabeth Jones – Learning resources Aotearoa : How do teachers and students discover, access and use learning resources?
They discussed how most young people are overwhelmed and inundated with information and resources. They are a bit like drowning in a digital sea. Their project was not about creating more content or discovering how young people use it but about engagement and learning. Resource channels are very fragmented. Many schools can still have classrooms that never get past the search results of Google. They looked at key opportunities and barriers. They also looked at young people's emotions (e.g. anxiety, confusion) when searching for information.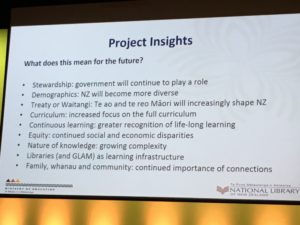 They said don't think 'put it out there and they will come' – people won't necessarily find your stuff or the great stuff in the sea of the internet. Also, teachers don't just want digital – they want lots of different types of resources. Teachers can determine when is print the perfect format, when is digital really good, when is the most powerful thing to go outside.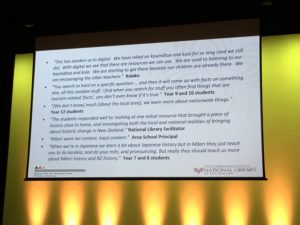 The National Library website has a great resource of curiosity cards with fertile questions that are open-ended and support inquiry learning. There is a danger when students think learning is Googling something and copying and pasting info in their paper. That's just information transfer.
Digital Creators Panel – Luke Rowell (musician), Nicky Hager (author and investigative journalist), Jem Yoshioka (illustrator and comics artist)
One of the first insights from the panel was that it is much harder to ring-fence what a body of work is, compared to years ago. The first question was: What of your work do you want the future to have access to? Rowell said he wants everything to be available, including his bad sessions if anyone would be interested in listening to those. Hager said he has to be careful about whistleblowers who gave information on condition of anonymity. He discussed the challenge of how to sort through hundreds of files, and the issue that files and computers can become lost over time. Yoshioka said she has a file sorting system but also lots of old hard drives. Her iPad has become her sketchbook as she stopped using physical sketchbooks last year. But this means that she doesn't go through files in the same way; there's not the opportunity to have a nostalgia session flipping through physical books.
The second question was: To what extent do terms of use factor into your thought processes? Yoshioka said that you have to think about it as a digital artist, but there's not a lot of choice in trying to get your work out there. The third question was: Is it important to have your work available to monetize in future? Rowell answered yes, you constantly have to get files and put on different platforms. Others always want higher fidelity and quality.
Another question was: If you could have access to work from creators who influence you, what would that be? Yoshioka is a fan of seeing other people's sketches and thus tends to put up her own for others to view. Hager said he would like to see others' original sources but it is usually not possible unless you are close friends with them. He goes to the Internet Archive/Wayback Machine a lot to see material that's disappeared or has changed, such as a press release. He gets a sense of how impermanent the internet is and tries to save what he can, but he thinks we need to have more of us saving internet material. A related question was: How can New Zealand collections archive material like the Internet Archive? with the response being that we need a version of the Internet Archive that grabs widely (websites) for each country.
A final question was: How do you want people in the future to be able to consume your work? Hager said he would like all of his books to be available in the future but he's not sure if it will ever be possible to safely make some of the research material available. Yoshioka said she has had success with Creative Commons licenses, and Rowell said he uses Creative Commons noncommercial licenses. Hager added that the thing about archives is that they usually don't gain value until later, almost by definition. That makes it a challenge for researchers, who may not see the value that others will give to their material.
Amie Mills – Growing great Kiwis: Reaching young New Zealanders online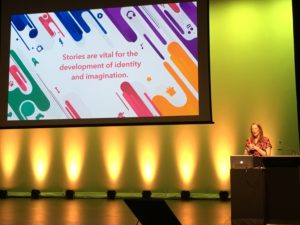 Mills gave an overview of New Zealand On Air's Hei Hei initiative for young viewers. NZ On Air exists to fund public access content like Radio NZ. The challenge was that YouTube now rivals TV2 as the biggest single source of media for children. Yet 9 out of 10 parents agreed that kids need NZ content. She said stories are very important. They launched a website and app in May this year. They had to keep it simple and similar to other apps; otherwise it would be a barrier to 5+. They focused on kids ages 5 to 9 because kids 10 and up have more agency over what they watch. She said they have smashed their targets with over 160,000 users. They didn't aim to compete with Netflix or YouTube but get good weekly views and on weekends. She said the tablet is the golden device for kids and that it is good to see Hei Hei is being used across the regions, not just in the big cities.
Lightning Talks
Tim Sherratt – A GLAM data workbench for reluctant researchers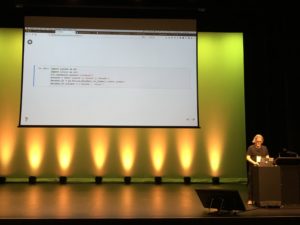 Sherratt opened by saying there are carpentries (e.g. Software Carpentry) and the Programming Historian but not everyone wants to go that route into coding. He showed the audience live code using an API from DigitalNZ and the benefits of the Jupyter notebook for Humanities people to use as a starting point to play around with.
Mike Dickison – A Wikipedian at Large
Dickison is being funded by Wikimedia to do a year of being a New Zealand Wikipedian in Residence. The first reaction from organizations is: So you'll fix our Wiki page? *insert heavy sigh GIF. He said his job is to show organizations how they can use their resources and encourage them to put content on Wikipedia. He said if you're not aware of Wikidata, get aware of it.
Asaf Barrow – Wiki + Data: Wikidata (and why you should care)
Barrow discussed Wikidata in more detail and called it the nexus allowing one to jump across institutions.
Hannah Benbow and Chantalle Smith – Reflections on a (pilot) D&D oral history project
They said they chose to focus on the game of Dungeons & Dragons because it is 40 years old, people still play it, and it appears in popular culture, such as in the show Stranger Things and The Big Bang Theory. Neither of them had played it before but were walked through it by others. They know oral history is important and uncovered personal and traumatic stuff that they hadn't expected. They thought gender diversity would be an issue, but actually other types of diversity were more of an issue (e.g. it is mainly privilege, university types who play). Games are meant to be played, and to get that information and the history surrounding them, they said, you have to actually talk to the players.
Rhys Owen and Andrew McGhie – Wrestling with Qilin: The Challenges of Chinese OCR
They discussed ways to deal with the challenges of scanning Chinese characters. They chose to put their content in figshare, an online repository, so it's public source and out there for others to look at.
Teina Herzer – Breaking content: Taking a design-led approach
Herer challenged the audience to rethink personas, indicating that they can be 90% BS, misleading, and biased. If you rely on them too much, your content can end up being generic. One of their flaws is that they are created by people trying to pretend to be someone else.
Jessica Moran – Preserving our digital lives: Now and for the future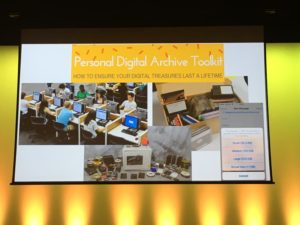 Moran sees collecting and archiving born-digital materials as a digital literacy issue that needs to be addressed. Different countries' people use social media differently. For example, only 9% of New Zealanders use Twitter. So even though we may be good at collecting from that, we aren't perhaps collecting from a more-used site like Facebook, which has much more content. The Personal Digital Archive Toolkit is one way of teaching people how to take care of their digital content.
Keynote: Tara Robertson – Blah blah blah: Diversity and inclusion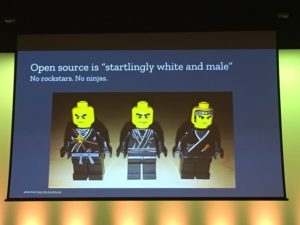 Robertson described herself as a data-driven feminist storyteller and did a mihi in Māori at the beginning – what a great opening to a keynote presentation. She gave a plug for Mozilla and its new quantum browser. She said Mozilla only has one share-holder: the nonprofit Mozilla Foundation. She asked the audience to share with someone next to them what is something that someone has done to make you feel included, and this led to some good conversations amongst the full auditorium. She also had a collaborative document that she invited us to contribute to with ideas (bit.ly/NDF-2018).
She challenged us to think about whose voices are here, which ones are automatically respected, and which aren't. Mozilla's Community Participation Guidelines discuss things you might not have thought of, such as use of the kiss emoji. She mentioned the way that orchestras helped debias their hiring practices, which involved having to put up a curtain to hide the sex of people, but then they also had to have women take off their heels because these would still click on the floor. She said that Mozilla had recently removed meritocracy from its policies. She challenged us to think about the pipeline for future librarians as being very white, whether or not it was necessary to have certain qualifications be mandatory, and that the idea of 'cultural fit' can be shorthand for 'they look and think like us' and promote a monoculture.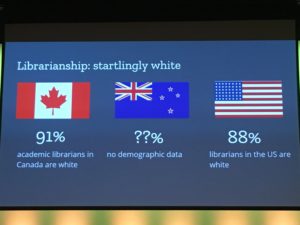 Next she discussed some different consent issues and ways of dealing with them. An idea to promote more consent around photographs at conferences is to use different colored lanyards to easily differentiate who is comfortable being photographed and who isn't without people having to actively opt out. There are also consent issues with digitization of sensitive materials where people never agreed to have it online on the internet; these shouldn't be open access.
Day 2 – November 21, 2018
Keynote: Bergis Jules – The community is the archive: Documenting the social justice activism in the age of social media
Jules discussed how people can use social media to discuss an event before the main media gets control of the narrative, and can have their tweets used by mainstream media and help control the narrative and define the terms of the debate. But then this can get away from them as the story gets more popular. The Documenting the Now project began after Michael Brown's murder in Ferguson, Missouri in 2014. Jules said that as archivists, he and others started thinking about how they could document the event. This one was different – the first time it had played out in the age of social media. It was also the first time people could see the thoughts and feelings of others around the world about the events. They were thinking about how they could better document the history of marginalized communities by looking at social media activists, what solutions they pose, and how they educate the public. Activists are closest to the issues and have solutions to offer (for example, Black Lives Matter on a national level and other initiatives in local communities re voting rights, mass incarceration, etc.).
Jules discussed the Center for Media Justice, which is working on surveillance issues for activists and communities of color, and Madonna Thunderhawk, who co-founded Women of All Red Nations in 1978 and continues to work on issues such as water rights. He asked, what can we learn from social media activism about those traditionally left out of our historical record? Such activism is an increasingly important tool for social justice. It's a centrepiece of their strategy.
Jules mentioned some examples of archiving of activism. The Interference Archive's objective is "Exploring relationship between cultural production and social movements". Occupy Archive is an archive of the Occupy Movements from 2011. He also mentioned Colored Conventions: Bringing 19th century Black Organizing to Digital Life, which examines the collective organizing of African-American people in the U.S.
There was a national forum on ethics and archiving the web in March 22-24, 2018, featuring filmmaker Elizabeth Castle, Madonna Thunderhawk and her daughter, and Jules showed a clip of Thunderhawk speaking at this forum. One of the issues with social media and activism was illustrated in that Facebook brought young people to Standing Rock, but there was also a security firm called TigerSwan documenting protest activity on behalf of local police department, so it is easier for activists and movements to be tracked as well (e.g. #NoDAPL No Dakota Access Pipeline hashtag). The Intercept news organization has a seven-part series of leaked documents on how social media was used in the fight over the Dakota Access Pipeline. Basically, police are finding new ways to use social media to go after protestors and activists and for evidence gathering. Geofeedia was offering a free public safety webinar and saying they can predict, monitor, and prevent risk in/around protests. There are 'threat actors' rap sheets from the cyber security company ZeroFox almost labelling them as terrorists. Jules said he shares these because it's important to understand how activists can be harmed online if archivists are going to work with them to archive events. Prosecution and reputation harm, are real issues. We don't want to replicate the behavior of the surveillance state and try to ensure we're not exploitative.
He said in his experience, activists say that archivists should not just watch from afar but come in person and document their whole lives not just activism. Archivists also plan to put on workshops so activists can gain more control of their own narratives, such as learning how to safely gather and store content during protests so it can be later used in courts if needed to show another side of the narrative.
Keynote: Tuaratini Ra'a – Moana Pacific Storytelling: Unlocking Secrets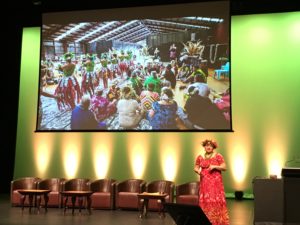 Tuaratini Ra'a is the Project Manager at the Pacifica Arts Centre in Auckland. She is also a Takitua, or storyteller, which comes from Taki (to guide, to lead, to carry) and Tua (story). She treated us to a story of the Pacific as she moved across the stage in her vibrantly colored outfit and had us think about the messages therein.
She said storytelling is an artform, not just about talking a lot. To tell stories with integrity and authenticity to her ancestors, she felt she needed to go back home to the Cook Islands and connect to the land and the people. But going back home and talking to people was a difficult step. She collected stories via video as well as audio with phones, which made it convenient. She went into caves and found skeletal remains and carvings (they were hidden there after Christianity came and people had to hide stuff).
Then she discussed the Pacifica Arts Centre Mamas and showed a YouTube clip of them. She said she did a participatory video project and gave the Mamas cameras, so they were in control of the stories they told. In 2017, she co-founded the Turou Takitua Storytelling Network, which seeks to connect the past and present through storytelling.
She emphasized that each person who holds that story has the right to determine whether or not you can receive it. She questioned the idea of free and easy access, and everything being so easily shared online in mass email, via Twitter, etc. She asked us to think about why we are doing it and whether others might take it out of context. This is why she specifically didn't have her storytelling streamed today.
Mahuki Labs Tour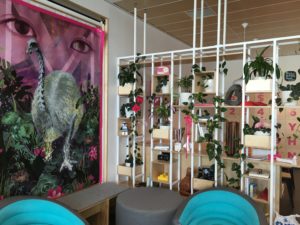 I went on a tour of the Mahuki Labs, which is an innovation accelerator program at Te Papa Tongarewa. It focuses on solving challenges within the GLAM sector and takes applications form people who want to work on entrepreneurial projects related to the cultural sector. The space was beautiful and inviting, with lots of bright colors and vibrancy. I was particularly interested in Merge Creative Agency's augmented reality (AR) game idea to help interest young people in libraries or museums by having them play as a character and hunt around the building to find clues. I think having more dynamic experiences is going to become a necessity in the future to engage new audiences.
Adrian Kingston – Beyond foot traffic and vanity metrics: The Audience Impact Model
Kingston opened by stating that not everything is about 'big dumb numbers' (such as statistics). He used a modified Lean Canvas to think of a different way to measure impact, and started with David McClure's Pirate metrics (AARRR) but it wasn't quite right because it was too focused on money in a way that Te Papa didn't need to be. There was also Google's HEART framework, the Kirkpatrick model for assessing the success of organizational thinking, and Ethan Zuckerman's engagement spectrum. They finally ended up with this sequence: Attention Reaction Connection Insight Action. As an example, looking at the Minecraft simulation featuring an earthquake that Te Papa had, there were kids going home and encouraging their parents to add safety measures at home like they had done in the game. He said that we could be better about longer-term impact, perhaps measuring through asking visitors when they return what they liked last time and why they're back. Another thing to consider is mapping an organization's impact onto the United Nation's Sustainable Development Goals (SDGs). The slides from this presentation are available here: https://t.co/Urxsbvjzt5
Paula Bray and Thomas Wing-Evans – DX Lab + 80Hz // More punk than GLAM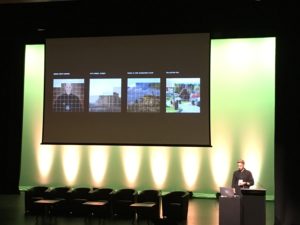 They focused on user-led thinking and want to change the way audiences think about what a library can be in the 21st century. They discussed the case study of the State Library NSW in Sydney's DX Lab turning paintings into sound in an exhibit installed in front of the library. They used data from digitization and turned it into sound values (such as scale, overtones, etc.). Instead of doing live music, they used a computer to generate the music and ended up giving the computer more agency, which meant it had less human bias and avoided the uncanny value of sounding kind of human. Observations of how people encountered the installation is that it seems to have had a global reach. The impact isn't all about numbers, also about audience engagement and seeing and hearing their own impressions.
Keynote: Tahu Kukutai – Demography, Digitisation and Data Sovereignty
Professor Tahu Kukutai is from the National Institute of Demographic and Economic Analysis, and she quickly put to rest any fear that a presentation on demographic data would be uninteresting. She said as a demographer, her bread and butter is data, so she has to consider issues like whose data, whose control, whose ethics, and whose benefit. She admitted to us that even she has a 'semi-secure repository' (i.e. trunk of stuff) in a garage behind some bikes.
She said there's always a whakapapa (genealogy) ninja in a family, and she is that person in her family. She would ask her dad questions and record info and put it in her trunk to store it. She likes the lens onto a population, the lens onto us as a people that demography gave her, and it's not just about looking at age ranges. She explained how it was one of the most rapid urbanization movements in the world, when Māori moved into cities in the 1960s. The descriptive picture (e.g. older Māori dying out which correlated with a lower te reo fluency rate) leads demographers to ask further questions and explore the data. She felt mainstream demography was very ill-equipped to why indigenous demographics looked the way they did.
She discussed historical demography and modeling the impacts of colonization on iwi and hapu population health (like mortality). There is the European Fertility Project, PRDH (Quebec), and DDB (Sweden) but nothing in New Zealand except for the Scots in Waipu. She received Marsden funding for a project to reconstruct three generations of tūpuna (ancestors) using mid-19th century census lists as the spine.
It assembles whenua data into a whenua database and correlates changes in mortality with changes in land tenure, use and settler settlement. The database was owned by Ngāti Tiipa, not her as researcher, and the information has to stay with whenua, not be shared on Ancestry.com, etc.. It is important to remember that everything is just fragments if you don't have local intelligence to weave it all together and make sense of it. A data classification guru helped them classify their data. The goal is clear and transparent tikanga.
She discussed the importance of data sovereignty. Te Mana Raraunga is the Māori Data Sovereignty Network, which advocates for Māori rights and interests in data to be protected. The U.S. has the US Indigenous Data Sovereignty Network. Australia has the Maiam nayri Wingara Aboriginal and Torres Strait Islander Data Sovereignty Collective.
There was an attempt to take an abstract concept and make it more concrete, and Brief #1 from October 2018 "Principles of Māori Data Sovereignty" is available. Part of the problem with the EU's General Data Protection Regulation (GDPR) is it focuses on individual rights, not on collective rights. Data is a national, strategic resource.
Keynote: Shaun Angeles Penangke – Ayeye digital-kenhe arntarntareme: Protecting our digital cultural heritage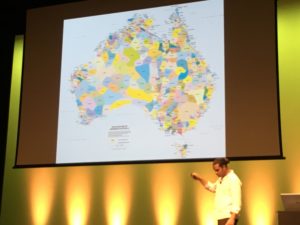 Penangke is the Artwe-kenhe (Men's) Collection Researcher at the Strehlow Research Centre, Museum and Art Gallery of the Northern Territory. He first situated himself in Australia and where his ancestors are from as he displayed a map of the country, and he also asked the audience to repeat some of his language.
He said there is a huge tie/bond between the land and the body – children are believed to be a reincarnation of certain totems like a kangaroo or water. You had to take care of the land because you were connected to it and if it weren't taken care of, this wouldn't be good for your spirit. He explained that he was raising the issues of his people being in Western hospitals, having a lower life expectancy, and selling land to corporations because they are important context for him being in charge of a large, largely digitized collection of his people's history.
He said he has noticed lots of similarities in his language and te reo Māori, including terms for things like taonga. At the research center, all research is done face-to-face – no public access. It's not ours; it's theirs. Staff are supposed to have an understanding of the culture to be able to work with the collection, including fluency in the language (Arrernte). So it makes sense to have indigenous working there, but he is only the second indigenous person to work there. It has mostly been researchers, which has been problematic. He said it's imperative to the health of the collection to employ elders.
He discussed a project of cultural mapping and how it was necessary to go on foot to some places inaccessible by car. He is working on adding more meaning to the yellow pins of sacred sites on Google Earth. He discussed what he called a type of indigenous intervention – having an elder add annotations to a map document that had been sitting 'sick' for 60 years.
He cautioned that digitalization is important but has large risks, including how to avoid losing USBs with restricted sacred content, and that if not managed properly, it has the potential to remove the need for elders (overreliance on digital domain). A challenge is that elders don't understand cloud storage and digital stuff, and they don't yet have terms or protocols around the digital world. For example, is it sacred if it's on USB? He wants to get young people involved and working in museums.
Keynotes: Ask Me Anything with MC Courtney Johnson
There is a move toward more nuanced, collaborative, complex, and sovereign relationship with objects and what they stand for (away from white, Western approach). Tuaratini Ra'a admitted that NDF sounded like it would be full of dry, boring people and/or robots but was pleasantly surprised that it wasn't! Tara Robertson said she thinks the cultural protocols are more real here than elsewhere and really likes how it is here at NDF. There was the question of what could the GLAM sector do for Year of Indigenous Languages next year? Tahu Kukutai said it is hard as a second language learner to understand the lifeworld; it is more than grammar rules. Tuaratini discussed the fact that not everyone likes language weeks, one has to know the reasons and tikanga behind it; language is not alone without a culture. Thus, signs during language weeks aren't a be-all, just a step. Bergis Jules said there is a tension between when you're making a living as a researcher or employee working with data and ethical issues. Shaun Angeles Penangke said we're governed by policies, etc. that aren't ours; he tells people this is yours, come in anytime, don't worry about checking in with reception, etc. Courtney Johnson agreed that these are challenges and that Te Papa is a bicultural institution but doesn't yet have bicultural governance. Robertson said there is a theme of 'not for general consumption' that the sector is trying to figure out how to do well. Tuaratini said that seeing Robertson get emotional over the Māori whakataukī (proverb/saying) reminded her that we do have it good here in Aotearoa New Zealand, and that although there is heaps to do, we should acknowledge ourselves too. Robertson pointed out what some in the audience must have been thinking, that the stage was all speakers who were people of color/indigenous people. She also pointed out the contrast with the mostly white audience. Kukutai said that for true bicultural governance, we need co-governance, not just letting in people to see their objects and treasures but not being involved in their care.